Solving queries via manuals is a thing of the past because now there are more reliable, affordable and flexible EDI integrations like Quickbook EDI(Electronic Data Interchange). With the help of VAN (Value Added Network), also known as EDI provider, this service is carried out. How does it work? How is it helping in Digital Transformation? What benefits does it provide? How is it different from the Legacy Support methods used? Well, to answer these questions it is pivotal to understand the methodology behind it.
EDI processes eliminate the error prone manual processes and automate operations gradually. You can position your business and boost productivity in your business with EDI. It can help you –
Save on staffing costs
Improve order processing time
Invest in growth instead of data entry
Reduce errors
The integration between the EDI and Quickbook takes all the complications out, easily balancing and adjusting financials, keeping fulfillment & warehouse operations running smoothly, and storing all the relevant data.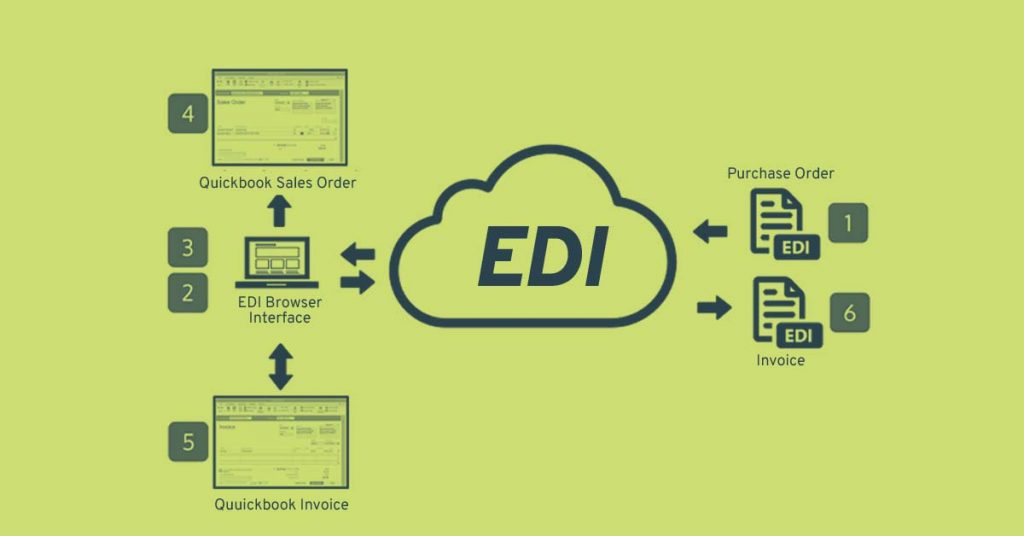 Let us understand with an example. Suppose you are a Furniture Dealer based out of Manchester in London who wishes to sell furniture online via an online portal. How can EDI help you in managing the database, load POs (Purchase Orders), and generate Invoices. A customer is looking out to revamp his house and wishes to purchase products like beds, sofas, artifacts, etc. Now how will Quickbook EDI help you to ease the customer's inquiry?
Since you are an EDI supplier, your customer will send you the PO of the products that he wishes to purchase.
You'll receive an E-Mail alerting you that a PO has arrived following which you will Login into EDI.
You'll process the PO for printing and viewing in a managed format. The customer will receive an Acknowledgement EDI that his PO has been processed.
During the processing of the PO, you'll select the option "Export to Quickbooks" which will display the Customer's PO wherein it'll feed the information of the Customer incase the customer wishes to generate more POs in the future.
You are ready to generate the invoice created wherein you can import your invoices from Quickbooks to EDI.
Your invoices are converted to EDI and delivered to your customer.
The process becomes easier with Quickbook EDI integration as manual intervention is skipped. There are many benefits of Quickbook EDI.
Reduce Sales Order Entry Time –Each time you rely on Quickbook EDI integration method, the entry time that manual entry would take gets minimized which helps in making the process faster.
No Risk of Error – The risk of inaccuracies are reduced as the automated solution method increases the customer responsiveness with respect to the time taken.
Usability – The method is innovative, informative and easy to navigate.
Speed – Using EDI integration the process becomes quick and efficient.
Cross reference tool – You can match the EDI customer information to Quickbook records using the web-based Cross reference Tool .
Synchronization – Easy to synchronize items, customers, and terms between EDI and Quickbooks.
Now you are set up with an EDI, you'll be able to apply these resources to grow your Business. How?
EDI Compliance with any Trading Partner – You can become an eligible vendor for major retailers. You can help in handling the setup and maintenance.
Improve Accuracy – Avoiding the data entry mistakes makes your business more efficient.
Reduce Labor Cost – Automate your management and data entry for a fraction of the time and cost.
Real-Time Error Monitoring – Ensure smooth operations by monitoring EDI relationships.
With Quickbook EDI, you can not only satisfy your customers but also give your company the capacity for more growth through the efficiencies created by the EDI Integration.