What is the role of PFMS in improving governance?
PFMS (Public Financial Management System) is a web-based online management software application developed by the Controller General of Accounts, Ministry of Finance, and Government of India. It is the complete system for processing, reconciling, and monitoring financial flows for the central government. It validates account details before proceeding with the transaction. PFMS's main aim is to bring transformational accountability and transparency in order to improve governance. Nowadays, PFMS has enabled governance to improve in terms of responsiveness, responsibility, and transparency. This system is now considered an important tool to trace the flow of funds. PECS has vast experience assisting our customers in providing PFMS service to our clients. In this blog, you will read about the role of PFMS in improving governance.
It tracks and monitors the flow of funds from the central government to the states and union territories, as well as to various government departments and organizations. It serves as a platform for financial management for all government plan schemes and tracks the flow of funds to the lowest level of implementation.
It helps in the efficient management of government finances by providing real-time information on the flow of funds, enabling better decision-making, and reducing the potential for fraud and corruption.
It also provides the electronic transfer of funds from the central government to the states and union territories, which helps speed up the process of fund disbursement and improves transparency.
It manages the regular activities of CGA, like payments, accounting, expenditure control, receipts, the management of the provident fund and pensions, etc.
It also monitors and controls unutilized funds.
It is mandatory to provide all the information on fund utilization for monitoring and better decisions. This is to improve public accountability for implementing schemes, better cash management, and transparency in public expenditure.
Direct payments to beneficiaries are made through the PFMS portal.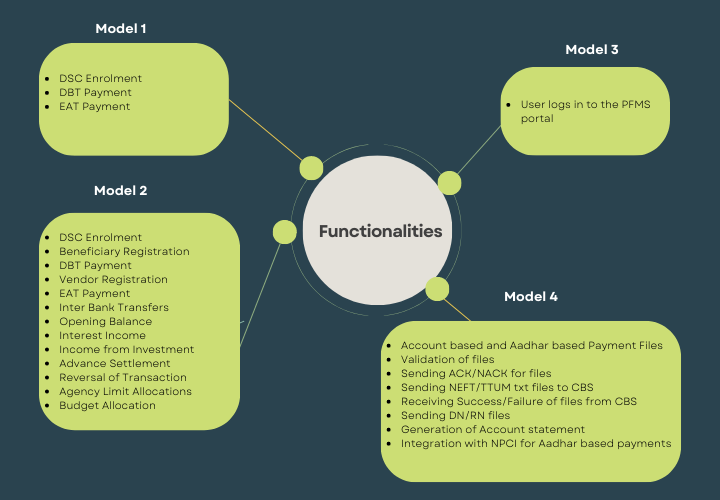 PFMS ensures transformation through a digital method:
The Public Financial Management System (PFMS) is a digital platform that helps ensure the transformation of public financial management in India through digital inclusion. It is an end-to-end solution that covers all aspects of the financial management cycle, including budget preparation, budget execution, accounting, and reporting.
The key feature of the PFMS is its ability to digitally track the flow of funds from the central government to the implementing agencies and further to the beneficiaries. This helps to ensure that the funds are being used for their intended purpose and reduces the risk of fraud and mismanagement. The use of digital platforms such as mobile banking, e-wallets, and other digital payment methods makes it easy for the beneficiaries to access their funds and reduces the need for physical transactions. Real-time reports and tracking progress help improve the decision-making process. Overall, PFMS helps ensure a comprehensive, transparent, and efficient system that helps ensure that public funds are being used effectively and reach the intended beneficiaries.
PFMS has enabled real-time tracking of government payments and reduced the time taken for processing payments from several weeks to just a few days.
PFMS provides a comprehensive view of government spending and has helped to improve transparency and accountability in the financial management process.
It helps to improve the targeting of subsidies to the intended beneficiaries and reduces fraud.
PFMS has helped to automate many financial management processes, resulting in significant cost savings and increased efficiency.
PFMS helps in better monitoring of financial transactions and enables the government to take proper decisions.
Its improved tracking system helps to reduce the risk of fraud and mismanagement.
PFMS is currently integrated with cooperative banks, India Post, the RBI, and regional rural banks. And the performance of these banks is monitored with a set of indicators like data updation, transaction lead time, error count, account validation, etc. The scope of the PFMS is growing with time, and it helps in bringing transformational accountability and transparency in order to improve governance.
PNB, UCO Bank, and IOB Bank are the Indian public sector banks that have chosen PECS for the implementation of the Public Financial Management System (PFMS). PECS help organizations to effectively implement PFMS by providing comprehensive solutions for setting goals, monitoring progress, and tracking results.Our team of experienced professionals offers a range of services, including project management, implementation support, and maintenance. For the successful execution of schemes, we find solutions to the functional issues with software applications and work closely with our clients to understand their specific needs and tailor our solutions to meet those needs. With a track record of successful PFMS implementations, PECS is the perfect choice for organizations that are looking to optimize their financial management systems.