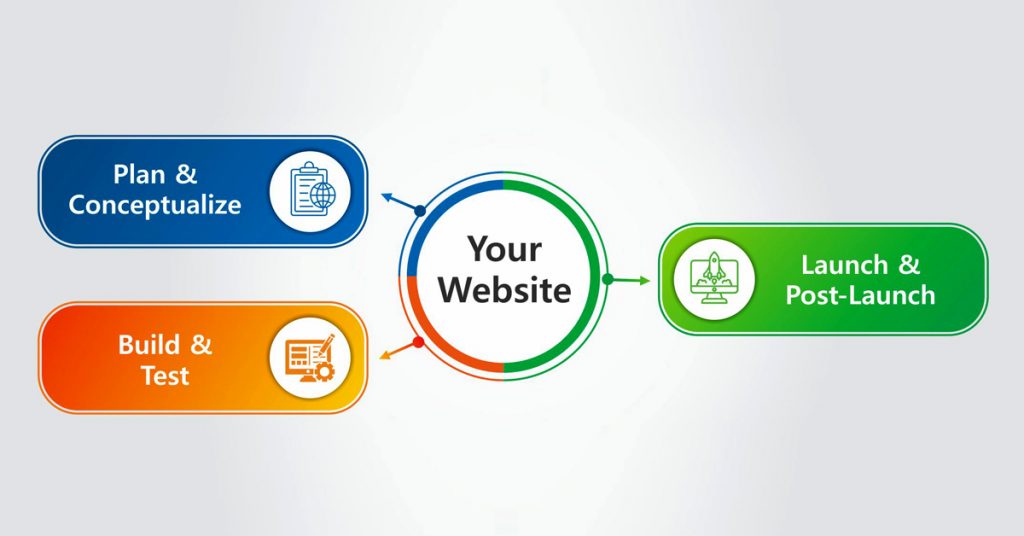 Looking to build or freshen up your website? Let us understand the website lifecycle including plan, build, launch and on-going digital marketing and support.
Through a series of blogs, we will take each key stage and share the steps. Let us get started with the Planning stage.
Stage 1 – Plan & Conceptualise
Have you asked yourself why you need a new website or an overhaul of your existing site? What is the Inspiration for the website? The following questions wouldhelp bring out the reasons and benefits and help you establish the PURPOSE of the website.
BENEFIT: How do you think a new website will help your business?
STRATEGY:

How does a new website fit into your overall business strategy and how would it help with your marketing, sales and customer service strategy?

AUDIENCE: Is your target audience an existing customer base or are you looking to reach out to a different audience?
COMPETITION: Who are your competition and how are they benefiting from their web and social media initiatives?
CHANGE: How is latest web and digital technology having an impact on your customer base, customer expectations, purchase patterns and the industry?
Let us put the above into context. Say you are a Furniture retailer based out of Greater Manchester and have a large showroom in the area. You would now like to target the wider UK geography to market and sell your furniture products online.
i. BENEFIT:
Wider Geography
More Sales
Improved Technology
Better Experience
ii. AUDIENCE:
Existing Customer Base
New Customer
Younger Generation
Tech Savvy Customer
iii.COMPETITION:
Furniture Village
Wayfair
Harveys
iv. STRATEGY:
Leverage UK Brand &Product Quality
Bespoke Increase Market Reach
furniture
Target Millennials
Free UK wide delivery
v. CHANGE:
Customer service online
Customer ordering
Space design tool
Virtual showroom visit
Once you have identified a clear PURPOSE, pen a little STORYLINE.
i. INFORMATION: What are the key information, products and services you would like your visitors to see?
ii. EMPHASIS: Within all the information, what are one or two aspects that really make you stand out?
iii. BRAND: Are you looking to promote your own brand or other brands you deal in or both?
iv. MARKETING: What online marketing techniques you believe could help attract web visitors?
v. UPDATE: Would your website change often? Would you like to regularly talk about new product, services or share news, write about industry or community to keep your target audience engaged?
The key with the STORYLINE is to identify 'website ingredients' and what is more important to you and your business or organization and what you believe will be most attractive for your target audience.
Continuing our example of the Furniture retailer, the above points could translate as below:
i. INFORMATION:
Digital Catalogues with Search
Design Your Space Tool
Company credentials
ii. EMPHASIS:
Modular Furniture
Quick Free Delivery
New Range
Attractive Prices
Sale Area
iii. BRAND:
Strengthen Own Brand
Outsource Products of other Brands
Reward Schemes
Brand Refresh
iv. MARKETING:
Newsletter
Pamphlets
Live Chat
Online Discount
v. UPDATE:
Enroll Monthly Schemes
Attractive Scheem Letters
Seasonal sale
Testimonials
SELF OR SUPPLIER
Fine, well done to get to this point. It is now time to decide if you would like to take the good work above and do it yourself, hire a freelance web developer or work with a professional web development company. There is no right or wrong way. A simple guide is if you are a well-funded start up or an established medium or large sized company, you are very likely better off working with a well-established partner and build a long-term relationship.
WEB SOLUTION PARTNER SELECTION
To select the right partner who provides guidance and delivers a quality web solution, there are several factors to consider. The following are some key points we believe you should consider to select the most suitable web partner.
BRIDGE:The partner needs to understand your business and your organization and your web site PURPOSE and STORYLINE to turn your ideas into reality.
CULTURE:It is important that your web development partner works in a way that is culturally aligned to your organization culture and way of working.
VALUE-ADD:The partner should be able to bring ideas and experience to the table to provide real value add and convert your STORYLINE into a structure and design that provides maximum benefit to your business.
EXPERTISE: The partner's expertise in web design, web development and new technologies such as Artificial Intelligence, Chat Bots, Robotic Process Automation (RPA), Business Analytics are all key to ensure your partner delivers a quality solution.
E-Commerce: Whereyou are looking for e-commerce capability in your website, the partner's experience of e-commerce delivery and understanding of the available platforms and payment gateways is a key consideration.
PROTOTYPE: Check if your partner would consider investment in a prototype. This could be where your website or web solution will benefit from an early prototype or even a few short iterations before you commit to the complete project.
You now have a WEB PARTNER to work with. The PURPOSE of your website or web solution project is clear, your STORYLINE is ready and your WEB PARTNER understands these well and is ready to takes these into the Design & Build stage.
We will walk you through the Design & Build steps in our next blog in this series.