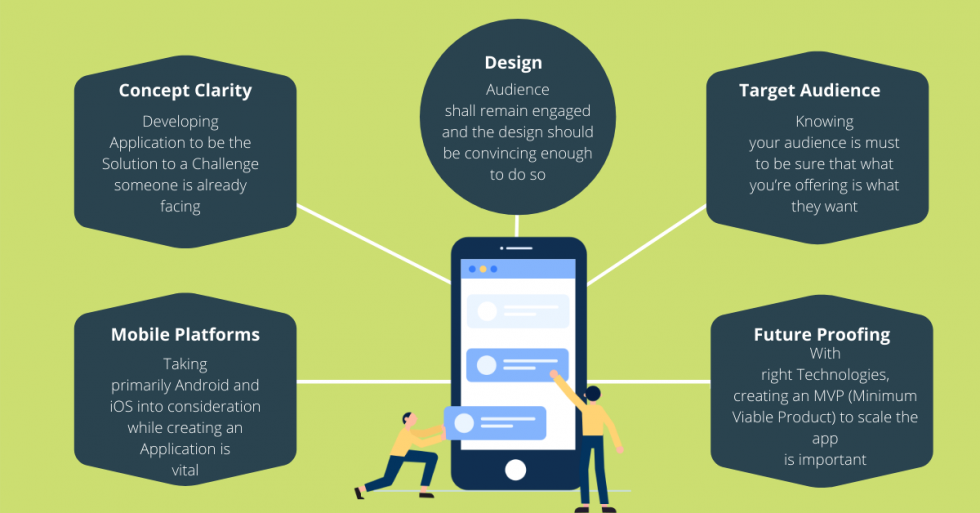 A user-friendly custom business app is the key to ensure quick adoption and wider usage. Users in 2020 expect mobile design to be intuitive with convenient features, and applications to run faster on Android/iOS devices. A well structured custom mobile app can help a business as reflected in key performance indicators (KPIs) and return on investment (ROI). As per your industry, your marketing objectives and your budget, you must consider several factors before developing a business mobile app.
"Would the application that we plan to develop going to solve an existing challenge or business problem?" It is better to ask yourself this question before embarking on Mobile Application Development and marketing your app. It is important that your Business Case to build the app is clear and you have carefully considered what will you achieve by undertaking the new Mobile Application Development project. This exercise will help you and your team evaluate properly and once the case is strong, the buy-in from everyone will be better from the outset. The Mobile Application Development Company and Digital Marketing Company that you engage will have better understanding of the Business Case and will be able to bring better ideas during concept, design and development stages.
To know your audience is a key factor while developing an app. At the point of formulating app development and marketing plan, the target audience plays a key role. Why? This is because in the end, it's these people who are responsible for your app's success. If you wish that people should download and use your app, you have to be sure that what you're offering is what they want.
"Good design, brings clarity". How to achieve this is a challenge which developers face while designing the app. It is important that audience remains engaged and that is possible only when the design is well thought and convincing. Conversation flow of the mobile application should be smooth. If the information flow of the applications gives the user an impression that he is having a conversation with a friend, then you have succeeded and your app is likely to win hearts and minds.
Even after considering above factors and implementing to plan, success isn't guaranteed. Yes, today your app is stable and is receiving applauds from all over but it is not necessary that this would be the case tomorrow. Time changes fast in the mobile app world and it is essential the app is up-to-date, continuously improved and you seek and fight off bugs. Constant vigilance, good processes and great teamwork will significantly increase your chance to succeed.